The last modifications of this post were around 12 years ago, some information may be outdated!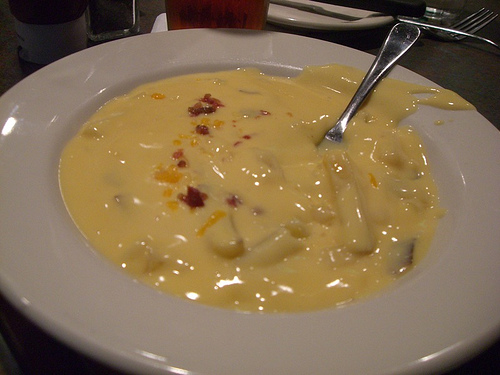 This is an old family recipe that has many augmentations. I made it this weekend without any exact measurements, so you want to keep an eye as you add the ingredients. All in all it is simple and VERY good, especially old cold, snowy days.
Ingredients:
5 Medium Potatoes, cubed
1 Medium Onion, diced
Pinch of Salt
1 Stick of Butter
1 4 oz. Can Diced Green Chilies
4 c. Milk
1 lb. Jack Cheese, shredded
Directions
Add salt, potatoes and onions into a large pot. Fill the pot with water just until the potatoes and onions are covered.
Cook the potatoes and onions on high until the potatoes are soft enough to poke through easily with a fork.
Take the pot off the heat. Use a potato masher and mash the potatoes and onions together. Do not drain the water out of the pot.
Add the butter, chilies, and milk to the pot and return to heat. Reduce the heat to medium. I found that cutting the butter into slices helps it blend in better.
Slowly add the cheese to pot in handfuls. The goal is to get the cheese to blend well with the rest of the ingredients and thicken up the soup. I usually add a couple handfuls, let it melt in well then repeat.
Simmer until the entire mixture is blended well.
Modifications The best part about this recipe is that you can modify it without much work. For instance, try some (or all) of these ideas:
Use Pepper Jack cheese for a little more kick in the overall recipe.
Use Sharp Cheddar Cheese for a different "bite" to the soup.
Replace milk with 3/4c chicken broth. It adds some amazing flavor, especially the homemade kind.
Mix in some cooked bacon, cut into small pieces, during step 4.
Mix in some canned corn (drained), during step 4.
Top with some green onion or chives when serving.
Mix in some hot sauce (I prefer Cholula) to your own bowl if the rest of your family doesn't like anything spicy.
Enjoy and let me know if you try it out! If you can think of other items to mix in, let me know too. I always like trying something a little different to the base every time.