The last modifications of this post were around 8 years ago, some information may be outdated!
This is a complete HT (hat tip) to Tip Hero, but I had to make sure to keep a record of this for my own use. This recipe isn't as complicated as it may look and is great with breakfast.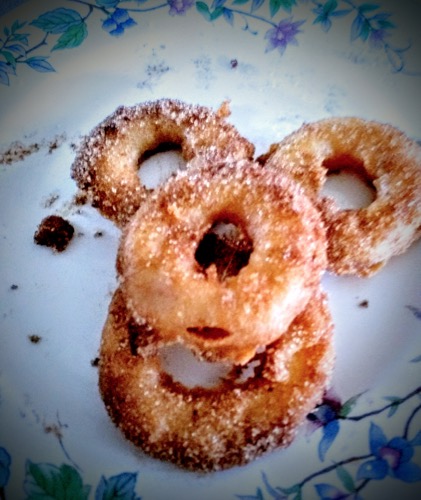 1 - Prep Apples
Take 3 to 4 apples and cut them horizontally into rings (you'll see the "apple star" in the middle of it). Then use a cookie cutter to cut out the middles and make rings. Place them between two sheets of paper towels and press lightly to get some of the excess moisture out of them. Set them aside to dry out a little more.
2 - Prep Batter
In a large bowl, add the following ingredients and mix them together:
1c Flour
2tbsp Sugar
1/4tsp Cinnamon
1/4tsp Baking Powder
1/4tsp Salt
In a smaller bowl, add the following ingredients together and mix them together:
1c Buttermilk (you can mix a cup of milk and a tsp of vinegar and let it sit for 10 minutes too)
1 large egg
Mix the wet ingredients into the dry and mix until it is blended. It may take a couple of minutes to fully thicken.
3 - Prep Topping
In another wide bowl, mix together the following:
4 - Fry Rings
Add vegetable oil (coconut oil works nice too) in to a skillet or a pan and heat to 350 degrees. Dip the apple rings in the batter until well coated and put in the skillet. Fry until golden brown and set on a cooling rack to drain.
Once slightly cooled, but drained, place both sides of the rings in the bowl with the topping so they get a slight coating.
5 - Eat
Once fully cooled (though slightly warm is great too) eat away! If you want to have some extra fun, put in a few spoonfulls of the batter in the oil to make hush puppies as well.
Enjoy!