The last modifications of this post were around 11 years ago, some information may be outdated!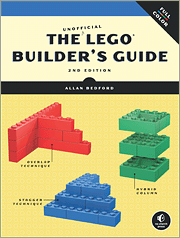 I love legos! I still have my functioning train set from when I was 10 years old that we pull out at Christmas. I have the 1st edition lego death star that took a week to put together, and a handful of other items around. My girls are getting into legos now too, which adds to the fun. We spend hours putting together the designs on the pages, or making our own, like a fire station, movie theatre, or even "Captain Frank's Emporium". So when I stumbled upon The Unofficial LEGO Builder's Guide by Allan Bedford, I had to look to see what new inspirations I could find with them.
This book provides an amazing "engineering guide" on how to build models with legos. It provides the fundamental details about most the pieces in the system (bricks, plates, etc.). From there it moves into building techniques, such as overlapping bricks on each later for maximum stability. It also demonstrates how to get desired effects, such as angles or curves, using pieces you might not expect. Once you get the hang of these concepts, you're introduced to building models to scale, just as you see it in Legoland or other places. You're even introduced to the concept of "mega bricks" which look like your normal small bricks. You are also introduced to mosaic patterns and sculpting with your bricks. All of this culminates by the end of the book in the process of building a simple scale model of a space shuttle.
In addition to this overview, the book provides a "Brickopedia" which catalogues all of the prominent pieces in the LEGO universe. It gives you the catalog number (in case you need to order some), it's release date, and helpful insights on how to work with them. There is also a section showing how to use design grids, which are amazingly helpful at visualizing and laying out your project, from any angle.
This book wasn't what I was expecting. I was expecting to read a general guide on how to make simple trees, or people, or houses. Instead, I read a great "foundational" book on how to get more out of my lego building experience. I immediately saw how I could take some model ideas and put them into action after reading this book. I was hoping that I could pass this book on to my 6 year old girls and let them run wild with it, but I don't think it will quite suit them. However, when they turn 9 or 10, this will be the perfect book to enable them to expand their building horizons.
_The Unofficial LEGO Builder's Guide by Allan Bedford_ is the perfect book for your beginning or intermediate LEGO builder looking to get to the next level with their building skills. With plenty of pictures and examples, it is a fun and insightful read all at the same time. While I wouldn't recommend it to the youngest of builders, it would make the perfect gift for anybody 9 to 99.
You can get this book through O'Reilly Books at http://shop.oreilly.com/product/9781593274412.do