The last modifications of this post were around 11 years ago, some information may be outdated!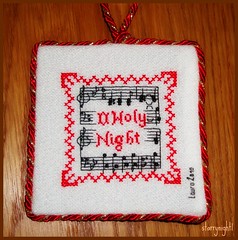 Here it is! Christmas Eve! And for our final day before Christmas, I wanted to share my all time favorite Christmas carol, O Holy Night.
Over the years I've found this song so moving and it really captures the essence of Christmas for me. See the lyrics below. Today I present O Holy Night in three versions. The first being a rock take on the song by a group I really like, Barlow Girl:
http://youtu.be/dEVew7cW2ls&h=150
The next is a gem I picked up a long while back from the long forgotten show Studio 60: On the Sunset Strip. In an episode they did to raise support for New Orleans, real life instrumentalist Troy "Trombone Shorty" Andrews assembles a small brass combo and plays a lovely New Orleans Style version:
https://soundcloud.com/dillie-o/o-holy-night-studio-60-nola
Finally, and my all time favorite, comes from the vocals of Point of Grace:
http://open.spotify.com/track/7jR73bhMvmp7eOY2GvyzOz
Merry Christmas and a Happy New Year all!!!!
[:: Sean ::]
O Holy Night! The stars are brightly shining, It is the night of the dear Saviour's birth. Long lay the world in sin and error pining. Till He appeared and the Spirit felt its worth. A thrill of hope the weary world rejoices, For yonder breaks a new and glorious morn. Fall on your knees! Oh, hear the angel voices! O night divine, the night when Christ was born; O night, O Holy Night , O night divine! O night, O Holy Night , O night divine!

Led by the light of faith serenely beaming, With glowing hearts by His cradle we stand. O'er the world a star is sweetly gleaming, Now come the wisemen from out of the Orient land. The King of kings lay thus lowly manger; In all our trials born to be our friends. He knows our need, our weakness is no stranger, Behold your King! Before him lowly bend! Behold your King! Before him lowly bend!

Truly He taught us to love one another, His law is love and His gospel is peace. Chains he shall break, for the slave is our brother. And in his name all oppression shall cease. Sweet hymns of joy in grateful chorus raise we, With all our hearts we praise His holy name. Christ is the Lord! Then ever, ever praise we, His power and glory ever more proclaim! His power and glory ever more proclaim!